About The School | Master Mix Live™
Master Mix Live offers students a very unique semi-private engineering education to acquire skillful use of today's audio gear, plus, confident hands-on console mastery to qualify as an A1, or, A2, proficient Live Audio Engineer in 20 weeks.
Master Mix Live tailors their instruction, and training to focus expressly, and specifically on a Live Audio Engineering and Mixing Education.  Master Mix Lives' 5 week, 240 hour, hands-on, extreme, Live Audio Engineering program was uniquely modeled to teach, train and prepare up and coming audio engineers for live, practical, knowledge, understanding, and use of today's cutting-edge audio gear.
Successful students earn a MASTER MIX LIVE™ Certificate of Completion with school endorsement.
If you are interested in a career as a Front of House Live Audio Engineer, Broadcast (TV or, Radio) Live Audio Engineer, Monitor Engineer or Systems Engineer, our program is specifically detailed for you!
Why Choose Master Mix Live?
On a daily basis Master Mix Live™ audio students will experience hands on practice with some of today's top artists live recordings.
About The Master Mix Live Founder
Rick Camp was born Oct. 1961 in Cincinnati,Oh.,  with the sound of music in his heart and soul.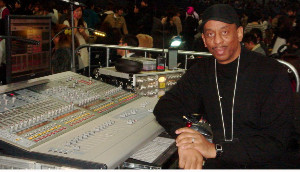 Rick became a very accomplished trumpet and trombone player by 1980 when he was accepted in the prestiges Berklee College of Music, while on the side he was dabbling in the sound duties for the local bands he performed with, he just happened to be the best at putting the audio system together and getting a great sound!!
After attending Berklee for one year and seeing some of the kids he started with leave before the year was over to  tour with some of the great bands of the 70's and also noticing that all of the biggest horn bands of the 70's  such as Earth, Wind & Fire, Kool & the Gang and Chicago had all but disappeared from the music scene, he decided to switch gears and pursue his second love, Sound!!, Upon returning to Cincinnati,Oh. he promptly got an intern job at a local recording studio and started reading every audio book and magazine (mix magazine)  he could get his hands on !
One day while working in the studio he asked the head engineer what was the best recording console on the market at that time, he told him SSL (Solid State Logic), and then he said the magic words that has propelled Rick to the very top of the audio business, recording or live, He told Rick that he would NEVER in LIFE learn how to work this console!!
Upon hearing those words Rick promptly called (no internet to google in 1981) SSL in London,England and ask them to mail him (no email either) a manual for the SSL 4000E recording console, which he read religiously from front to back many times until he understood all of the routing, signal flow and every input and output the console had to offer.
Unfortunately for Rick this console was very expensive and not one studio in Cincinnati had one to see or work on, but that didn't stop Rick from getting to one, by 1985 after mixing all of the high profile local bands in Cincinnati, Rick met Lester Troutman of the legendary multi platinum selling  group,  Roger & Zapp, Lester invited Rick up to Dayton,Oh. were the group was based, to engineer in there private studios were they worked on a Neve 8100 series console and made such hits as "More Bounce to the Ounce" and I heard it through the grapevine".
Rick learned his most valuable studio skills and  lessons under the direction of Lester and Roger Troutman, both of which are very accomplished studio engineers and musicians, thru connections made at Troutman studios Rick traveled to Detroit,Mi. were he worked on his first SSL 4000E console, in the "Sound Suite" studios.
Meanwhile back in Cincinnati,  Rick was still mixing the hottest local bands in the city., and also doing weekend gigs with the "Miller Sound Express" tour which was a free concert series sponsored by Miller Brewing company and featured national artists from the 70's & 80's like Midnight Star, The System, Lakeside and Cameo, were he mixed monitors for all of the bands because none of them carried there own monitor engineers at the time.
One day while mixing at a famous venue named Bogarts, Rick met his passport to the big leagues of live audio, Michael "Huggy" Carter, Huggy as he's known throughout the touring world was mixing the headline group of the evening, "The Whispers", Huggy was so impressed by Rick's mixing skills they began a friendship and working relationship that has lasted until present. (28 years later)
Rick and Huggy have gone on to mix and tour/production manage respectively such groups as "Chris Brown" and Mary J. Blige.
After moving to Los Angeles,Ca. in 1988 and joining the "The Whispers", Rick toured the world with them for 12 years, and during there down time Rick started to pick up other gigs with such groups as Vesta Williams, Miki Howard, The O'jays, Bobby Brown, New Edition, Al B. Sure, and finally landing a gig of what he thought was at the top of the R & B pile, "The Temptations", which led to gigs and tours with Gladys knight.
In 1991 Rick was introduced by his childhood friend and band member, David Odom from Cinti,Oh. to Walter "Clyde" Orange of the world famous Commodores.
Rick and Clyde became inseparable in the recording studio world with Rick becoming his personal studio engineer and friend for the last 25 years.
Rick even went on to buy his home and recording studio in Canoga Park,Ca. in 1993 were he started "Reel Tyme Productions & Recording", which he ran for many years even while touring, he worked with such acts as "The Whispers, Phil Perry, Portrait, Ideal, Paul Taylor, Jeff Lorber, Chante Moore, Howard Hewitt, Al McKay (of EWF),  Aaliyah and Usher, Owning and running a recording facility sharpened his managerial skills.
By 1993  Rick was at the top of his game when he got a call from a cousin (Sheldon Reynolds) who just happened to be playing with a very well known group from the 70's, that was making a comeback onto the music touring scene, That group was "Earth, Wind & Fire", This was Rick's gig of a lifetime, he had idolized them from his high school days when he was playing trumpet.
Rick began mixing front of house for them from 1993 thru 1997, when he got a call in 1995 from the pro tools operator (Michael McKnight)  for EWF, he said That "Madonna" was in need of a front of house engineer to mix her promo tour, that opportunity led him into mixing some of the biggest POP groups of today.
By 2004 Rick had racked up numerous live and studio credits with the top groups of the day,  and one day he was doing a rehearsal with the TV/Recording star "Brandy", when he noticed a group loading in to the rehearsal studio next door to him, he went over to see who it was, and as luck (Blessings) would have it, he ran into an old touring friend (Norman Williams) who he hadn't seen in 5 years or so, Norman had just taken a world tour production management gig with "Destiny's Child" and a week prior to them leaving for Australia, the FOH engineer quit, He offered Rick  the tour and everything else was history, Rick went onto mix FOH for Destiny's Child and then onto Beyonce and Kelly Rowland's solo tours up until 2007.
Along the way Rick also recorded and mixed at his L.A. studio, Beyonce's first live DVD project "Live from Wembley Arena", "Dangerously in Love"
Rick was also the broadcast engineer on Beyonce's world famous gig for "Nelson Mandela's" 46664 concert, live from Cape Town,South Africa. in 2003.
Since then Rick has gone on to mix front of house and or Production/Tour manage such legendary groups and solo acts as Burt Bacharach, Natalie Cole, Kenny "Babyface Edmonds, Jennifer Lopez, Anita Baker, Kelly Clarkson, Stevie Wonder, Gap Band, Charlie Wilson, Brian McKnight, James Ingram, Chris Brown and Mary J. Blige,
Now after 35 years of touring and studio work, Rick is starting his best works yet, "Master Mix Live" a 5-month intensive (((LIVE))) audio only school based in Las Vegas,Nv. where he now resides.
Rick is committed to teaching the young engineers of today the skills that he had to struggle to learn thru years of trial and error because there were no audio schools or elder engineers with the foresight to teach!