Master Mix Live graduated it's first student into the touring and recording world, Noel Edwards. 
Noel has been touring and recording for 10 plus years know,
With such acts as Beyonce, Jennifer Lopez, Brian Culbertson, Kelly Rowland, Delicate Sound company, Rat Sound company, F.A.M.E. Church in Los Angeles,Ca., faithful Central Church in Los Angeles,Ca.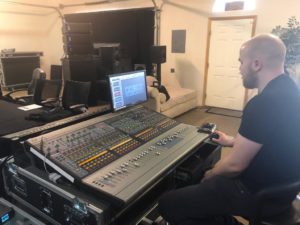 I came all the way from Israel to spend quality time with Rick and his team and everybody was really great and helpful.
Getting those types of insights into the industry and advanced live sound techniques are rare and precious.
We also got to visit behind the scenes of an A-list band,(Earth Wind & Fire) to talk to their FOH and monitor sound engineers and watch the entire show from our VIP seats. Thanks so much for everything, Rick.
Ran Shir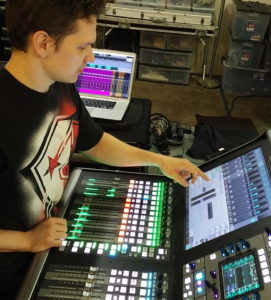 "I came all the way from Finland to attend to Master Mix Live, because I think it's one of a kind
program. There is not any other school, course or program in the world that teaches skills needed
in the real world so hands on.
Truly unique was getting to mix the actual multitracks from world touring artists, with consoles like
Avid S6L and SSL L500.
Instructor Rick Camp shared his experiences in music business, the ways he work and techniques
he uses. That really helped me to find my own ways of working and managing as a sound
engineer.
I also really appreciate the above and beyond mentality that mr. Camp has towards his students.
Especially all the connections and work experiences he got for me are invaluable"
Olli Jarvelainen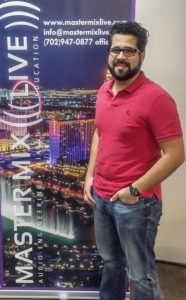 "There is nothing out there than can compare to Master Mix Live. Years of real world experience condensed into a Live Audio course is simply priceless.I have never heard of a school where you get to work with multitracks recorded live from top touring artists, until I came across Master Mix Live. Plus, I got to work with real touring equipment, consoles you will come across on world tours like SSL and DiGiCo. 
Mr. Camp is a fantastic mentor. He doesn't hesitate to share all his secrets. Even when he's telling you a story about a tour, you're still learning so much!
I've never felt more prepared and competent for today's audio/music industry"
Roberto Betancourt

"The time I spent at master mix live was invaluable to my career. I use the skills I learned in the courses everyday in my position as an audio engineer. I met a lot of great people and it unlocked a lot of opportunities for me that I wouldn't have been prepared for had I not spent the time there. I'd highly recommend it to anybody looking for a career in the audio field"
David Divito

 "The  training at Master Mix Live was the Best way 
to learn how to mix on my favorite consoles. VENUE PROFILE ,
and the SC48.  Also the introduction to The new Avid S6L.
I am very satisfied with Mr. Camp as my  instructor for 
my live mixing education."
Bruce Ven
Aug. 1st, 2014  Master Mix Live placed "Evan Longwood" at LMG event technologies located here in Las Vegas,Nv. and with multiple offices located around the world. "www.lmg.net/corp"
At age 24 Evan came to us being a 2-year post audio graduate of Sanford Brown college, a four year degree program located in Las Vegas, He like many other college degree program students around the country could not find a job in his field because of his lack of hands on experience and real world training he didn't receive.
"After taking the 5-month Master Mix Live program and off campus internship with LMG event technologies, they hired me as a full time staff employee working in their audio quality control department.
This was the best move of my career, I personally recommend Master Mix Live over any of the degree or non-degree programs out there because you learn from veteran engineers who have and still are working with todays top touring artist!!"
Evan Longwood

"Master Mix Live is not just another live audio class. Rick Camp provides knowledge that can only be gained through many years touring with large acts and working in live audio at the professional level. A student enrolled in Master Mix Live will learn about all aspects of professional live audio.This program has helped me cultivate relationships with professionals in the industry, and it has opened doors for me that no other school or class could"
Colin Gaddie
"Not only did I have a wonderful time learning, I gained valuable tips & resources from someone who's actually done it all, teaches well, and provides insight on things that you can only learn from experience. Rick taught me things that have put me ahead of a lot of my peers. I had a great time and if I could do it again, I would."
Steffen Orozco
"Being from a small town in southern Utah, I was more than stoked to work with Rick Camp in Las Vegas, Nevada. My experience in his studio opened up my mind to all of the possibilities of audio engineering. Although I didn't decide to work with recorded sound like we were focusing on, I felt more inclined to work in live sound simply because I loved everything I was learning but wanted it to fit my musician lifestyle. Overall the experience and mentoring was totally my style"
Megan Huard

"Thank you for excepting me as a Master Mix Live student, I'm very confident in you as a mentor, and my inspiration has been restored!!"
Steven Lelito
"My time spent with Rick as my mentor was awesome and waaayyyy more than what I could have gotten through other institutions! It was very hands on and he offered not only knowledge of mixing but his experience that saved me from further years of frustration. I highly recommend this sort of learning method. I've also gained a great friend for life as well..."
Sunny Henry
.

"In my opinion, I think this is the best audio program for the money, I got a lot of one on one time with Rick and he went above and beyond my expectations!"
Austin Westover
"An amazing and fulfilling experience. It didn't feel like a lecture, it was all hands on. I'm very thankful for the wisdom and knowledge that Rick has passed on to me"
Jordin Stransky   
"Rick is a great mentor/teacher. He has great knowledge of what goes on in a studio. He takes the time and has the patience to teach you what you need to learn as long as you're willing to put the work in to do so. Two thumbs up!!"

Richard Workman